[ad_1]

Key points covered in this podcast
– Why DailyFX parent company IG is entering the US market
– How you can enjoy tighter spreads and superior service when trading FX
– Why FX is one of the most flexible asset classes
Trading the foreign exchange market in the US has historically meant wide spreads and poor customer service. That's why DailyFX parent company IG has entered the arena to offer a better experience for those trading FX and other financial products. In this edition of our podcast Trading Global Markets Decoded, our host Tyler Yell talks to John Kicklighter, Chief Strategist at DailyFX, and Rupert Osborne, CEO of IG US, about how IG's product will shake up the foreign exchange market. Listen to the podcast by clicking on the link above or on one of the alternative options below.
Follow our podcasts on a platform that suits you
iTunes: https://itunes.apple.com/us/podcast/trading-global-markets-decoded/id1440995971
Stitcher: https://www.stitcher.com/podcast/trading-global-markets-decoded-with-dailyfx
Soundcloud: https://soundcloud.com/user-943631370
Google Play: https://play.google.com/music/listen?u=0#/ps/Iuoq7v7xqjefyqthmypwp3x5aoi
For too long forex traders in the US have had to make do with a dwindling number of brokers offering poor customer service and wide spreads, says Rupert.
'When we first looked at the US market we were surprised that US FX traders pay substantially more than FX traders in other parts of the world,' he adds. 'Our vision is to bring much better pricing and service to US customers so they get the attention they deserve.'
Having worked at IG since 2010, Rupert was most recently deputy head of FX, responsible for the day-to-day management of the FX desk. 'As a group we serve some 200,000 active customers globally and on a given day billions of dollars worth of FX is traded with IG,' he explains. A decade of experience in FX was a strong foundation for Rupert to lead the IG US project and set up a new office in the US.
More Attractive Spreads for FX Trading
On pricing, for the top two currency pairs IG clients trade, EUR/USD and USD/JPY, spreads will be 27 per cent lower than the competition, Rupert reveals.
'The second main area would be service,' he adds. 'From our research, most people have a fairly poor view of the customer service they get from their existing brokers.
'The idea of making people wait half an hour on the phone [if they have a query] seems outrageous. 'So we have a team of trading services colleagues in offices all around the world on hand for 24-hour phone support so our customers can talk to someone right away.'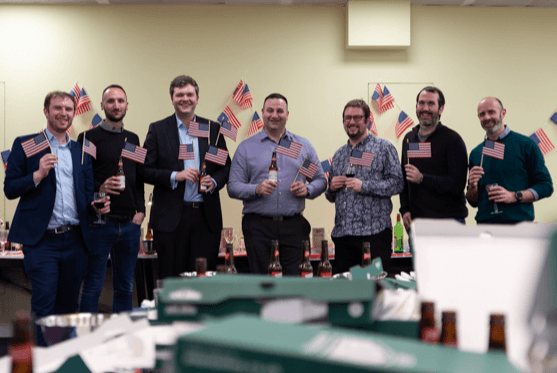 Rupert says IG's trading technology is also a real strength. 'The tech background to our trading platforms is all proprietary. We create those systems, manage them and adapt them, and innovate constantly.
'Most of IG's staff are based in tech. So providing customers with market leading prices and great service is critical but we have a really solid product backing it up. When customers trade with us we'll give them the best possible platform.'
Putting FX in the Spotlight
A chief concern of John is how the profile of the FX market can be developed across the entire financial world. 'People have been drawn to equities, futures and the like, but without doubt one of the most flexible asset classes is FX,' he argues.
'The most appropriate product to trade a Fed or ECB rate decision will be EUR/USD – I won't be bending over backwards to get my shares account to fit that event.'
His goal is to make FX something that everyone recognizes, is comfortable with, and includes in their portfolio.
'Having IG in the mix will make for a much more robust industry overall and makes me excited about the future.'
Trade FX with IG
Open a demo account with IG today and start your trading journey with low spreads and first-rate customer service.
[ad_2]

Source link