[ad_1]

Harley Davidson Key Points:
Harley Davidson releases their 2019 Q1 earnings on Tuesday

President Donald Trump's tweets seem to have had an impact on Harley Davidson's stock price in the past

The tariff on Europe may continue to have a negative impact on Harley Davidson
On Tuesday, the famous motorcycle manufacturer, Harley Davidson, will release their first quarter earnings for 2019. Investors will look to their report to see how they have performed following the disapproval of US President Trump.
Last June, President Trump was not one to hide his thoughts on the company's decision to move their plant overseas – expressing his disappointment in the company's decision to leave the US. The decision came after the U.S increased import tariffs on Europe from 6% to 31%, resulting in a 90-100 million dollar loss for Harley Davidson.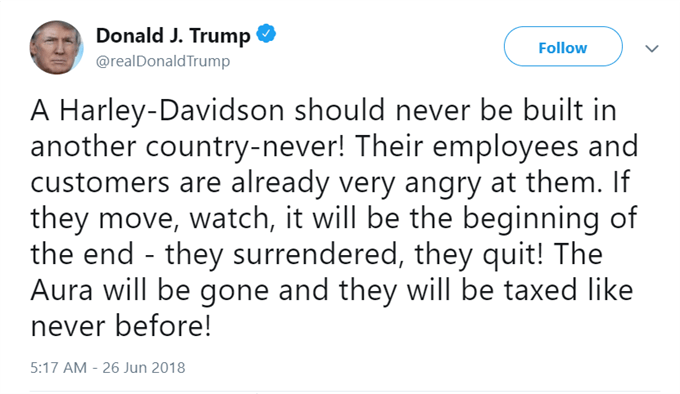 Since President Trump's tweets, Harley Davidson has experienced a drop in their sales and stock performance. In the third quarter of 2018, worldwide sales dropped to -7.8%. However, when looking at their international sales (excluding the US), Harley Davidson increased sales by 2.6%. The increase did not last long. In the 4th quarter, they continued to struggle when international sales declined by 2.6% from the previous quarter.
After President Trump encouraged Harley Davidson clients to boycott their company last August, the company's stock witnessed a drop. With Harley due to report earnings tomorrow, markets will get an updated look at the trade war's impact on the company. Similarly, another company caught in between the trade war was Huawei, who recently released their earnings report indicating a 39% increase in sales for the first quarter. However, the US government is still trying to get other nations to avoid purchasing from the company due espionage risk.
Both Harley Davidson and Huawei are facing ire from the US and President Trump, yet Harley Davidson has been negatively impacted whereas Huawei experienced a great quarter. However, since Huawei is a privately held company, they have not been audited. As April 29 approaches, US and Chinese officials prepare for their meeting in Beijing to continue trade war negotiations, potentially bringing an end to the US-China trade war.
Written by Nancy Pakbaz, CFA
Follow Nancy on Twitter @NancyPakbazFX


[ad_2]

Source link